Pure Craftsmanship
"Made in England" are three words that we take very seriously. We believe that it's reassuring to know where a product – be it a pair of selvedge denim jeans or a vegetable-tanned leather belt – is made, how it's made and by whom, as knowledge of those factors simply adds to its inherent and sentimental value.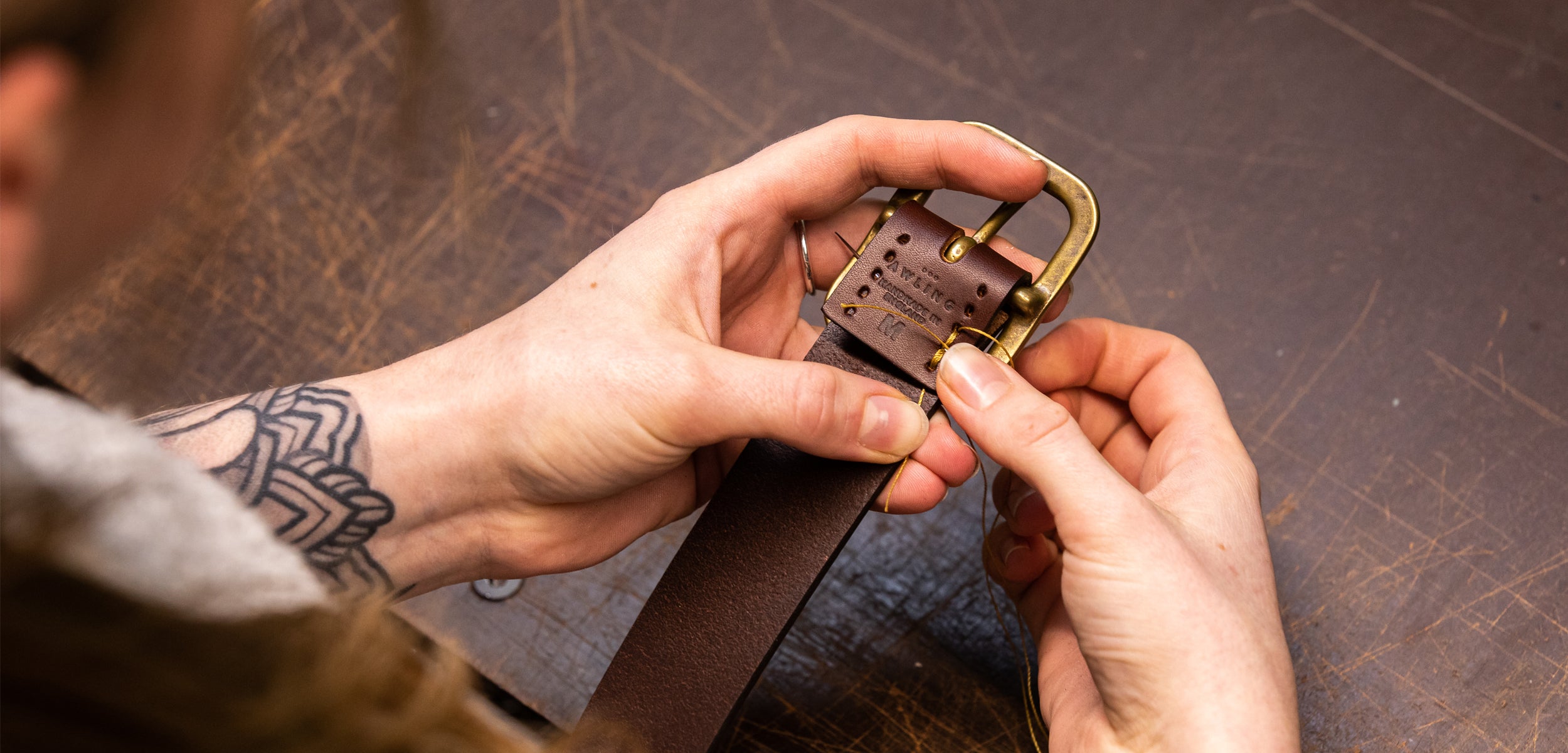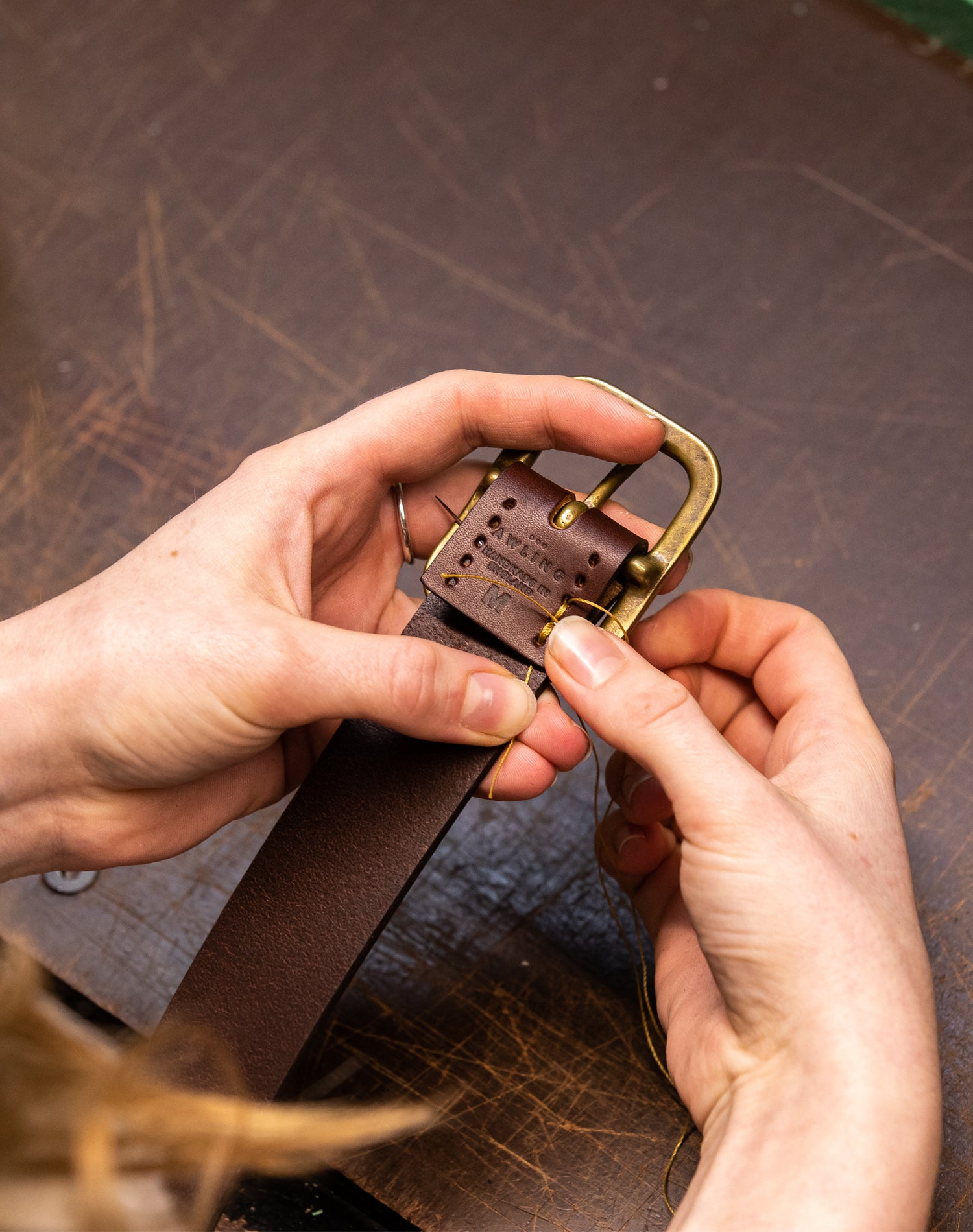 Italian Veg-Tanned Leather
Carefully selected hides to ensure enduring quality.

Custom Metal Work
Handmade cast and polished buckles from skilled craftsmen in the North of England.

Hand Assembled
Cut, sewn, assembled all by hand in Derbyshire, England.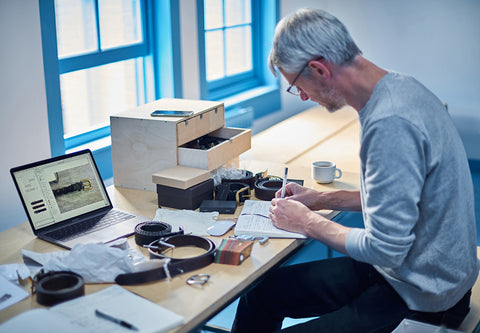 Design
The Awling design approach blends traditional English leather goods materials and techniques with simple functionality and a modern aesthetic
Our designer has 25 years' creative experience in the leather goods industry, which is apparent in our understated yet confident design style. During the creative process, details are pared back and distilled to their essence. This simplification creates a strong aesthetic and also highlights the quality of our materials. 
Our work practices and materials are essentially the same as those employed by leather craftspeople for centuries. Vegetable tanned saddle leather is paired with solid brass or pewter buckles and cut, stitched and finished by hand. These materials are inherently beautiful, in appearance and to touch, and only improve with age and use.
We balance our reverence for tradition with modern design cues. Powder coated colour, clean edge finishing, considered proportion and minimal detailing subtly harmonise with traditional elements. Awling represent a uniquely contemporary take on Britain's leather making heritage.
Leather in Focus
We've been cracking on over the summer, working with our leather suppliers to select the finest hides for production here in the England and, with that in mind, the coming weeks will see us launch our AW22 range. The new collection includes an array of handcrafted small leather goods from wallets, cardholders, folios and much more – we'll be launching some additional belt styles for good measure too.
Delve in deeper...
The Process - Part 1: Awling's Leather Selection
'Made In England' are three words that we take seriously. We believe that it's reassuring to know where a product – be it a pair of selvedge denim jeans or a vegetable-tanned leather belt – is made...
The Art of Buckle Making
Awling buckles are cast and hand-finished at an artisan foundry in northern England. Made bespoke to our original designs in solid brass and pewter, each features our three-dot mark debossed on the underside.
Brass buckles are sand cast. This ancient method involves molten brass being poured into a compressed sand mould. Once solidified the sand is broken away to reveal the buckle.
We employ the centrifugal method to create our pewter buckles. Molten pewter is poured into the centre of a two-piece circular rubber mould which is spun at high speed. Centrifugal force pushes the pewter into the mould.
Both processes produce rough surfaces which undergo numerous hand-finishing processes to achieve the desired end result.
In common with our leather belt straps, solid brass and pewter buckles improve with age, becoming polished to a high shine with regular use.
Delve in Deeper...
View all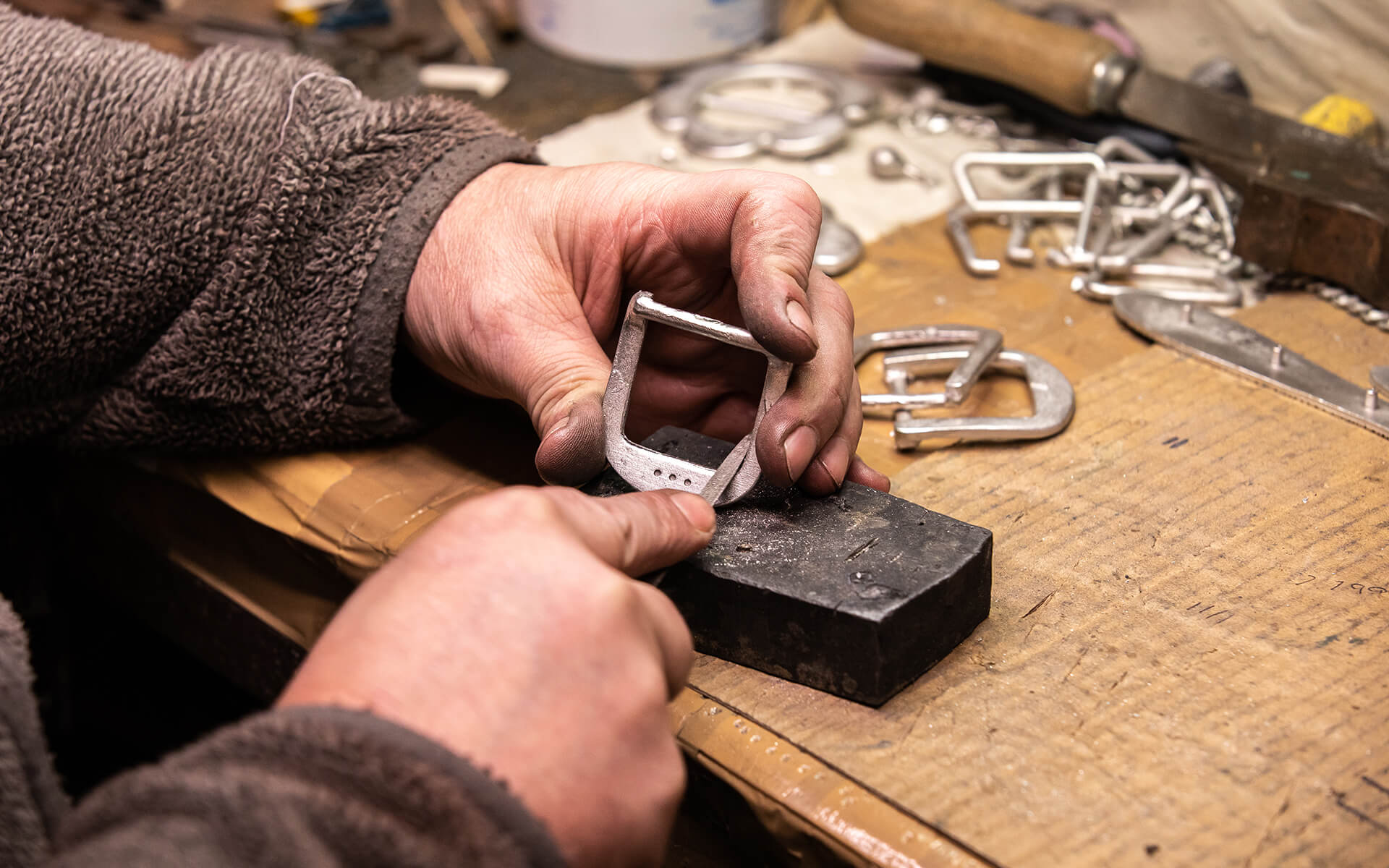 The Process - Part 2: How Our Buckles Are Made
Last month, we published a Journal article that went into detail on everything you need to know about our leather. If you haven't read it yet, we recommend doing so as this month, we're looking at ...